Photo | The Daily Courier | Prescott, AZ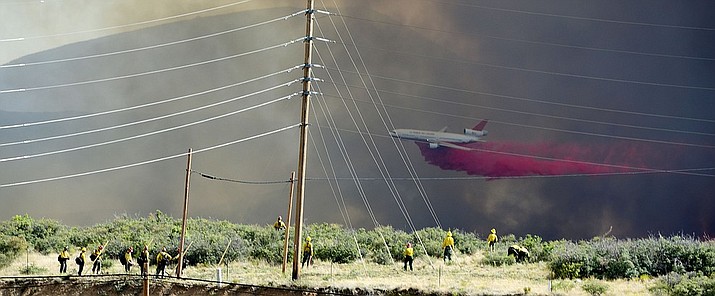 As the Goodwin Fire continues to burn, the following evacuations, pre-evacuations and closures exist, according to the Southwest Area Type 1 Incident Management Team 2:
Evacuations have been ordered for:
all of Mayer,
the area west of Highway 69, from Mayer to Poland Junction.
Poland Junction
Chaparral Hills
Breezy Pines
The evacuation remains in place for Pine Flat.
A shelter has been set up at the Bradshaw Mountain High School, 6000 E Long Look Drive in Prescott Valley off of Glassford Hill Rd.
Pre-evacuations have been ordered for:
Orme School
Dewey-Humboldt
Blue Hills, Walker
Potato Patch
Mt. Union and Mountain Pine Acres
For additional information please call the Yavapai County Emergency Operation Center at (928) 442-5103, 7 a.m. to 7 p.m.
Closures
State Highway 69 is now closed from I-17 to Hwy 169.
A Closure Order on the Prescott National Forest is in effect to provide for the safety of firefighters and the public.
Please visit the Prescott National Forest website (www.fs.fed.us/r3/prescott) or Inciweb (https://inciweb.nwcg.gov/incident/5278/) for a map of the closed area.
CodeRed
The Yavapai County Sheriff's Office now utilizes CodeRED as its Emergency Notification System (ENS). With this service, YCSO can send messages to residents and businesses within minutes with specific information when an emergency or time-sensitive issue arises.
Although ENS does contain published landline phone number information by default, the Sheriff's Office may only get landline phone data updates twice a year. This is why it is vital that you register all your phone numbers directly to assure contact in an emergency.
Please go to the Sheriff's Office website: www.ycsoaz.gov and click on the Emergency Notification System tab or the Code Red link on the home page